Welcome to Red Barn. Family, friends and colleagues, you are invited to join a special event.

When: Saturday, March 25, 2017 5:00pm – 8:00pm (EDT)
Where: 2574 Ledyard Road, Genoa, NY
Hosts: Peter Lonsky and The Lonsky Family
Questions? peter@collab.us
Event registrants displayed at the bottom of the page.
* Online event will begin around 6pm with broadcast of presentation via videoconferencing site TBD. Details to follow.
VISIT LIVE FEED at 6PM (EDT) Saturday, March 25
At the intersection of computing and communications, jobs connecting self-reliant individuals challenge inefficient, hierarchical business and government bureaucracies. New working styles are enhancing social benefits and self-actualization, placing responsibility to each other as primary to success.
Is solidarity a useful concept to promote helpful attitudes between people? This meeting is an exploration. We respect each other. Loose ties are important as our lives are necessarily focused on many nodes.
Regarding registration. Thank you for submitting the form above. We are interested in anticipating attendance for the purpose of arranging chairs and food. Current registrants are listed at the bottom of this page. Your contact information is handled with care.
Communities are formed by forces including proximity and self-interest. The safety blanket of a shared corporate experience can stifle self-expression. A focus on horizontal integration reinforces peer alignment. Join the party. Jump into the ring. We need to share to get ahead.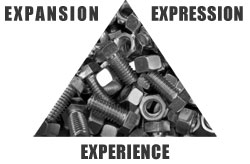 I want to share a kernel of opportunity. I want to call you to a collective challenge and solicit your feedback. There are many new fields that can be cultivated. I've been defining my worth for 20 years. As a consultant programmer, I create value by thinking, typing, pointing and clicking. I express myself in the words and sentences of programming languages. I will discuss some of the tools I use to create value and will identify some of my work projects that could be contributed to a collective pool of opportunities.
Rather than a start "up" to the inevitable hierarchy of employer/employee relationships, the construction I propose is starting "out" to a wider, more level field of activity.
In Silicon Valley and elsewhere, technology creates opportunities and enables growth. I have lived in the San Francisco Bay Area for the past 25 years, pursuing work as an entrepreneur and consultant since 1997. Opportunities in the age of widely-deployed and accessible networks allow anyone to engage in remote work.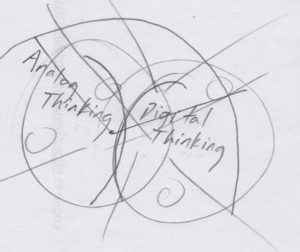 Why this meeting? What place does a CNY community have in defining the future? Initially I chose self-employment as a work-life choice, allowing me to have more time with family, time to pursue ideas and visions. After a while, self-employment chose me. In instances where the choice is made for you, a helpful network can be the difference between a struggle or the peace-of-mind that you can engage and contribute.
I spent my childhood in CNY. I feel that the talented, motivated residents of rural communities have skills and perspectives that are underappreciated and underutilized. The skills that are needed to be a productive contributor in the digital economy are varied, and learnable, for collaborators at every age and level of experience.
I admire resilient and resourceful people who seek to work and lead a productive life. Sometimes physical, always mental, challenges are met. Country life is rugged and purposeful. There are advantages of country living, including low population density and cost of living. Residents of the Bay Area live in congested conditions. It has advantages that make it desirable, but it's different. It doesn't matter where you live if you're satisfied with your lifestyle.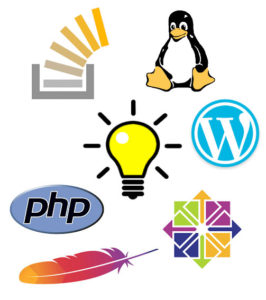 What type of work do you want? If you have a business, do you feel that understanding computers and the web increases your chances for continued success? The skills and understanding necessary to engage in remote collaboration is taught education and self-guided experience. The landscape of self-directed work produces more between people who collaborate to further each other's goals.
Topics of the event presentation will include (in no particular order):
CNY and Silicon Valley
Linux and open source
Collaboration and community
PHP and programming
Business infrastructure and opportunity
WordPress and content management
Service and support roles
The Internet, web and e-mail servers
Don't worry if any of the topics on the list are unfamiliar. The point of the event is to evaluate an interest in growing and sharing expertise. The technical jargon will be minimal in deference to broader, wider concepts.
My childhood home is at the meeting location. Its future has many possibilities. There are many formulas that could be applied. What are the solutions that build community? Social connections are primary currency. Rural lifestyles place a high value on helping neighbors. I feel we can achieve a better future together, collectively. It's time to begin with steps to enable the collaborative sharing of knowledge and support.
My world view is just one perspective. The process of collaboration shares and respects all viewpoints. I would like to acknowledge my family, friends and colleagues as important contributors to my life. This is an important component of a vision of cooperative interdependence. Everyone contributes uniquely to our society. I feel that the greatest challenges we face are the result of a loss of confidence in the "right" path. There are many paths to travel.
I graduated from Southern Cayuga Central School in 1982. Since then, I graduated from college and relocated to Palo Alto, CA. I am married with three grown boys.
In the 1990s, I worked at Silicon Graphics in Mountain View, CA and left in 1997 to pursue consultant and entrepreneurial opportunities. I've promoted my products and services and have collaborated with others seeking help for their businesses.
I hope you can participate in the upcoming event. Thanks for your interest,
Peter
EVENT REGISTRANTS:
Randy B. BTHERE
Klaus CVIRTUAL